Food Service Exchange is where industry-leading manufacturers and dealers sell overstock, closeout and scratch-and-dent products with free shipping and a minimum 90-day warranty on equipment.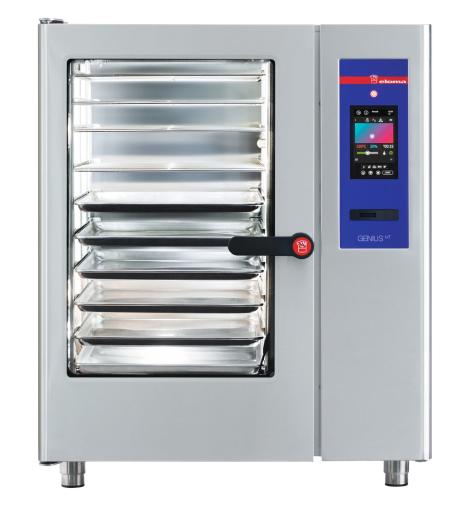 Eloma GMT10112XL 36" Electric Combi Oven, 208V
Eloma
Direct from Manufacturer
Free Shipping
(Typically Ships in 5 Business Days)
Download Specsheet
Product Description
Eloma 36" Electric Combi Oven, 208V
The unit is a boilerless, self-cleaning, combi oven designed for steaming and convection cooking either separately, sequentially or combined. The combi oven has a live-steam system that generates steam directly into the cooking chamber, for faster heating and re-heating without requiring a stand-by mode. An award-winning Multi-Eco system simultaneously pre-heats incoming water and cools outgoing condensate to reduce energy and water consumption. The oven fits 10 full-size sheet pans or 10 steam table pans. Unit Size: 32"L x 36"W x 44"H
Features:
Genuine MultiTouch display with ultrafast response and high resolution

9 modes of operation

An integrated 9 Menu group display including a library with up to 400 recipes with 20 steps each and 400 product pictures

Core temperature control for multi-point probe for precise measurement of the core temperature from 32 °F to 210 °F, control of cooking procedures and explain correction in case of false core temperature probe readings

Heat recovery through Multi-Eco System. Pre-heats incoming water for on-demand steam generation. Highly water and energy efficient. Exceeds drain temperature standards for most municipalities
Detail: Unit is in New condition
***Unit is Non-Returnable***
This item is backed by a 90-Day Function Warranty.
Shipping includes standard liftgate delivery when applicable.
Product Model Number
GMT10112XL
Depth
Applicable, Information Unavailable
Materials
All Stainless Steel
Heating Component
Boilerless
Material Component
Stainless Steel
Can't find what you need? We'll try to find it for you!